Air Arabia Partner & Air Arabia API
Air Arabia welcomes travel agents who wish to become our representatives in any of Air Arabia's destinations. Our competitive fares and extensive network surely stimulate huge demand from passengers searching for affordable flights and efficient means of travel. We support this with an easy and convenient selling option for our partners in the travel trade community. Now Air Arabia API is the best option for all online travel partners. So contact Air Arabia API partners zooFamily, for details call or WhatsApp +8801978569299.
What is API and its purpose?
API is an application programming interface. APIs are used for a product or service rebranding with other products and services by the implementation as per its documentation. This can be simplified by web development showing the data and booking the product or service from the data. Its purpose is to make the business easier with data and its programming.
This is known as Advance Passenger Information (API).

Air Arabia

Airlines will let you give the data through API that helps to search and book flights. Usually, API calls the data from the airline's server for air ticket booking, issue, and reissue. Air Arabia API price 350$, and for details call or WhatsApp +8801978569299.
Air Arabia API | Air Arabia ID | Air Arabia Agent Features
Air Arabia is the Middle East and North Africa's first and largest Low-Cost Carrier (LCC) founded in 2003, with its head office in Sharjah Freight Center, Sharjah International Airport, in Sharjah, UAE.
With our Air Arabia API, you can effortlessly integrate Air Arabia's extensive flight data into your applications or websites, offering your customers various travel choices. Access up-to-date flight schedules, availability, fares, and booking capabilities, ensuring your users can plan their journeys with accuracy and ease.
The Air Arabia database is a foundation for several other features we have. The data is gathered from Air Arabia and the database through dedicated airline software.
Buy Air Arabia API zooFamily 
Air Arabia ID services provide a streamlined login and authentication system, allowing users to securely access their accounts, manage bookings, and enjoy a personalized travel experience. Simplify the user experience and boost customer satisfaction by implementing Air Arabia ID into your platforms.
For travel agencies and professionals, our Air Arabia Agent solutions cater to your specific needs. Access specialized tools and resources tailored to travel agents, enabling you to efficiently manage bookings, track commissions, and provide exceptional customer service. Enhance your productivity and elevate your agency's performance with Air Arabia Agent services.
Partner with us to unlock the full potential of Air Arabia's offerings through our API, ID, and Agent solutions. Seamlessly integrate our services into your platforms and provide your users with a seamless, reliable, and convenient travel experience. Elevate your business, delight your customers, and stay ahead in the competitive travel industry with Air Arabia API, Air Arabia ID, and Air Arabia Agent services. For details, you may contact zooFamily – A school of travel inventory & technology. To buy Air Abia API Integration click here.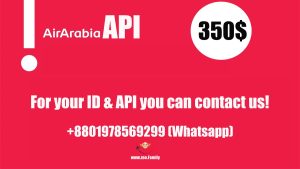 Clients can connect to the flight tracking through the API key which gives direct access to all the live flight data. The flight tracker API allows clients to display within their applications or on their websites and other platforms, the actual tracking of flights including all their relevant information. This service is central to our aviation data and is maintained constantly within our database. Since the data is live, the updates happen within short intervals of just a few minutes. For the demo have a look http://demo.zoo.family
To contact us, you may click on Email | Facebook | WhatsApp
zooFamily Organisers: Airways Office | Travelzoo BD Ltd | zoo Travel Technology | Travel News BD | Airlines Office